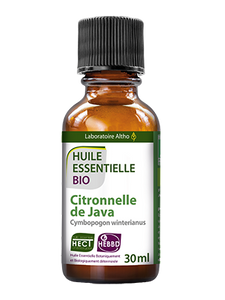 This well-known insect repellent is essential during those long summer evenings or travels to tropical climates. Furthermore, this essential oil will help soothe any existing mosquito bites due to its capacity as an anti-inflammatory. We also advise its utilisation to help fight rheumatisms, tendinitis, and arthritis.
Advice:
On the skin: As a mosquito repellent: Mix 2ml of organic citronella essential oil with 2ml of lemon eucalyptus essential oil and 30ml of a vegetable oil (such as calendula or hazelnut).
By diffusion: Diffuse this essential oil to prevent or rid your home of insect infestations and avoid their nasty bites.
Composition:
Cymbopogon winterianus *

* Organic Farming method
Origin: Indonesia
Capacity: 30 ml