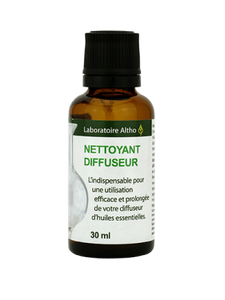 Essential for maintaining your diffuser
The Glass Cleaner is essential for maintaining your nebulizing diffuser.
It is important to keep the diffuser nozzle clean to enable optimal diffusion.
100% natural product
Advice: 
Pour 30 drops of this glass cleaner in to your diffuser. Turn the diffuser up to full power for 15 minutes or until the essential oil residue has dispersed. It is advised to clean your diffuser every three months or when you wish to change oils/blends. 
Composition:
Ethanol
Capacity: 30 ml
Precautions for use:
Keep out of the reach of children. Highly flammable product, keep away from heat sources and away from any flames or sparks. Avoid contact with the skin and eyes. Do not ingest.