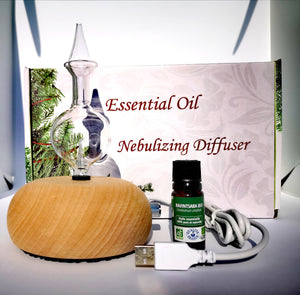 Buy our Nebulizing Diffuser and get Ravintsara Essential Oil 10ml for half price.
Our nebulizing diffuser will disperse your essential oils using its heatless system: it blows cool air through your essences, creating a light mist. This process will conserve all of the properties of your essential oils. No water required.
Diffusion is a highly efficient way to benefit from the qualities of essential oils. It will allow you to live in an enriched and therapeutic atmosphere on a daily basis.
Please note if this is your first time buying our Nebulizing Diffuser we recommend you also purchase the Glass Cleaner for your Diffuser. Use 30 drops of the Glass Cleaner in your diffuser and turn your diffuser up full power. 
Ravintsara Essential Oil 10ml WAS €20 NOW €10 when you buy the Bundle
Organic Ravintsara Essential Oil is the go-to antiviral essential oil. It is advised as a preventative and therapeutic treatment of chills, bronchitis, flu, viral enteritis, and immune deficiencies. When used as a massage oil it will allow the muscles to truly relax and will aid lymphatic drainage.
Advice:
When diffused into living spaces Ravintsara essential oil will disinfect the air, and revitalise the organism and mind.
Composition:
Cinnamomum camphora *

* Organic Farming Method
Origin: Madagascar
Capacity: 10 ml
To view our full range of organic essential oil diffuser blends click here