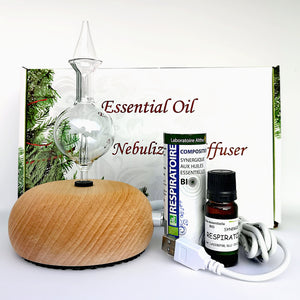 Buy our Nebulizing Diffuser and get the Respiratory Blend 10ml for half price.
Our nebulizing diffuser will disperse your essential oils using its heatless system: it blows cool air through your essences, creating a light mist. This process will conserve all of the properties of your essential oils. No water required.
Diffusion is a highly efficient way to benefit from the qualities of essential oils. It will allow you to live in an enriched and therapeutic atmosphere on a daily basis.
Please note if this is your first time buying our Nebulizing Diffuser we recommend you also purchase the Glass Cleaner for your Diffuser. Use 30 drops of the Glass Cleaner in your diffuser and turn your diffuser up full power. 
Respiratory Blend 10ml WAS €19 NOW €9.50 when you buy the Bundle
Laboratoire Altho has perfected this synergy of 10 organic essential oils that have been especially selected for their expectorant, anti-inflammatory, antibacterial and antiviral properties. 
Diffuse this blend in your home or work place to help decongest your breathing and to sanitise the air around you.
Advice:
Diffuse this blend in its pure form in our nebulizing diffuser and diffuse for 15 minutes per hour to make your living space pleasant and fragrant. 
Composition:
Blend of organic essential oils: Cajeput, Cypress, Eucalytpus globulus, Lavandin super, Niaouli, Maritime pine, Ravintsara, Rosemary, Tea Tree, Thyme
Capacity: 10 ml


To view our full range of organic essential oil diffuser blends click here