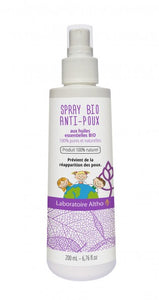 Prevent the reappearance of headlice
100% natural product which prevents lice reappareance.
Used with the ORGANIC Anti Lice lotion for a best result.
Advice:
Spray once a day 6 to 8 sprays (3 to 5ml) on the hair, neck, sheets, pilows and exposed clothing. 
Composition:
Organic flower water of lavender*, organic vegetal ethanol*, organic essential oils of lavandin super*, geranium rosat*, cedar*.

*ingredients from organic farming.
100% of the ingredients are for natural origin.
100% of the ingredients come from organic farming.
Capacity: 200 mL