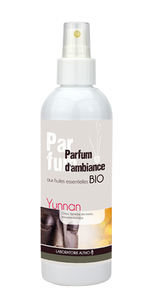 Room spray with organic essential oils
With a few sprays you will be transported to the sweet scents of Yunnan.
Advice :
Spray in your living rooms to create a fragrant atmosphere. This spray can also be used on supports such as sheets, pillows, curtains, etc.
Composition:
With organic essential oils of lemon *, Indian verbena *, exotic verbena *. 
* From organic farming.
Capacity: 200 ml